During the Merdeka weekend, i.e. 28th-31st August, the Dew Crew went on an exposure trip to Singapore. 21 of us, including Karen and Monica who came after Children Church on Saturday.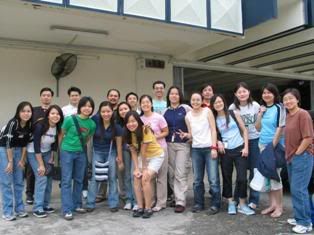 Our bus left DSP at around 8 something in the morning. It was a pretty slow and long journey...I guess pretty safe too.... On one of our stop on the highway, the bus parked right next to some tanks, obviously, some of us just couldn't resist NOT to take photos.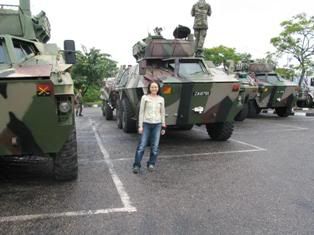 It was almost 3pm when we reached the second link. When we were finally in Singapore, we quickly checked into
HangOut at mt. emily
(a budget hotel that is really impressive) yup, the stuff in the pictures we see on the website is REAL. Looks like sometimes we can believe certain things we see online. Thank God.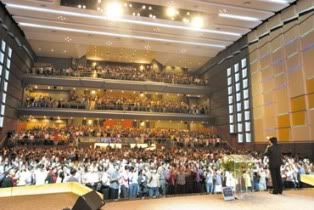 After dumping our stuff there, we made our way to
Lighthouse
in Woodlands for the Miracle Service. We manage to have our dinner just next to the church. The church building is very new, Joseph said he could smell the "new smell"...
The main sanctuary is like a concert hall. Soooo huge. We were seated on the ground floor (they have 3 more floors....like 3 more of DUMC's balcony) . The seats....cinema like chairs but only much more comfortable. Think the seat rest is very high-more like head rest for some of us. Oh, and their screen, ahem, S$2million bright LED screen. Oh, and did I mention, it's not one LED screen, they have one on center stage and 2 more slightly smaller ones on both sides of the hall . Because its LED screen any lighting effects won't affect the clarity. So you should have guessed by now, they also have some very canggih lightings - changing the colour of the whole stage as the worship songs changes. Only thing some of us weren't too use to was the sitting down during slow worship songs - not too good for some of us especially when the seats are already way too comfortable!!! Rev Rony Tan was speaking, and there were really many healing testimony on that day itself.
On Sunday morning, we had breakfast at Jurong. Attended
City Harvest Church's
service at 9am.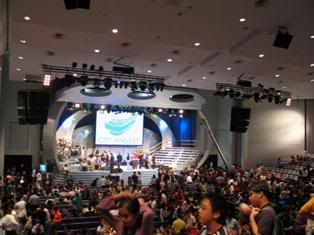 The Speaker was Rev Derek Dunn. Pastor Kong Hee was away in Taiwan that weekend. As we entered the main sanctuary, everyone received the previous week's sermon CD for free . We also had reserved seats!!! I've been to CHC twice before, once was during their 10th year anniversary at the Indoor Stadium and another was last 2 years during the crew's previous exposure trip. We weren't expecting a tour around the building initially, but somehow, we did anyway (C.Way, that's why I was late!) The Facilities Operations Director, Suraj, took us around. We didn't have time to visit every room and floor like the previous time but we manage to visit their video room. Pastor Aries took us in 3 groups into the video room and explained how they work and answer all our million questions happily!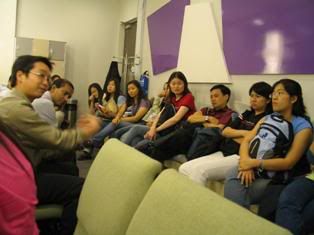 We also had a short Q&A session with their AV head - Henry (and He wasn't suppose to be around till Monday, hmmm, divine appointment?!) We were truly blessed by their hospitality. I mean, ppl like Suraj, Pastor Aries and Henry are really very very busy and they really made time to meet us and show us around and answer all our questionssss!!! So generous with their time. Wow, I pray that God will continue to pour even more blessings unto all these wonderful ppl and their church. By the way, they have very beautiful washrooms too!
After CHC, we went off to Suntec City. Had lunch and walk around for a while. Chen Way did mention it is really important to be early if we want a seat in the main sanctuary in
New Creation Church
.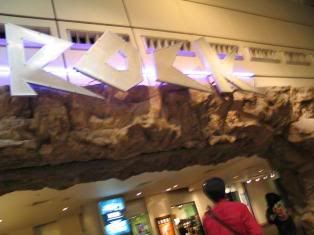 When we gathered to meet up with their crew in front of The Rock, we saw some an awesome sight. Extremely long queue around the whole floor lining up towards the entrance of The Rock, and that was many minutes before the service was suppose to start .

Some were very impress that the church was situated next to a video store and a video arcade nearby! Hmmm, good idea to have a church within a shopping mall huh. Security was pretty tight, policemen were around the entrance. Hehe, some of us were told off not to take photos! (same thing happened when some of us were taking photos in CHC. Wasn't as scare then as those were ushers and these here were police....surely none of us want to end up in jail. Singaporeans must be thinking we are really MAD, taking photos everywhere we go...) Their crews were really kind. While waiting for the earlier service to end, they took us to their recording studio on another floor.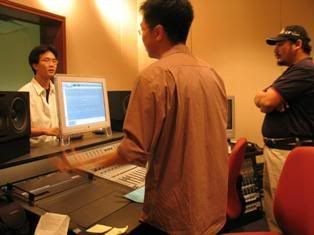 The studio is where they record all the sermons and have it edited before selling them. That whole floor is actually occupied by the church but was under renovation to become their overflow room. When we return to the main entrance, we were lead to walk straight in! We had reserved seats!!!! Actually, I do feel a bit bad, I mean all those ppl queuing out there for so long... but also really thankful . Pastor Prince was preaching that evening. After the service ended, we found out that the sermon that day was exceptionally longer than the usual. After a long day, their crew still showed us their equipment and answers our questions after the service! We had dinner at Marche which was nearby.
On Monday, we had some free time in the morning. We met up to go to Lighthouse Evangelism again.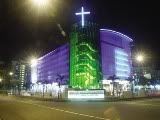 This time for a technical tour. Their contractors were fixing the screen when we were around - apparently a few LED wasn't working right. Hehe. if you see those pictures with Darlene, well, they were testing the screen with the Hillsongs DVD. Yet again, some vain ppl were trying to take photos....with the screen??? or was it Darlene???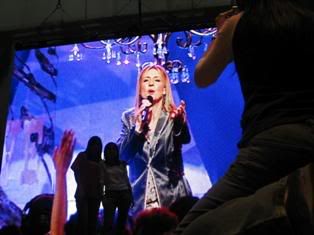 The head of crew was another very generous person. He shared with us on stuff that we should and shouldn't do when we are getting our own building. Many things have to be planned advance if we get to build the building. Space can be quite an issue, when everything is being moved in. They have very beautiful washrooms as well, think there were at least 40 cubicles to accommodate large amount of ppl! Hehe. No waiting required. They have a gorgeous room for dancers as well. Huge mirrors from ceiling to floor. The room also doubles as a nursery and for parents with little kids during service….yea, no disturbance at all during the service!
-----------------------------
It's quite a hassle posting all the photos here. You can view the remaining photos by clicking
here
.